Sebastian's Spell | Summer 2017 | Genre: Super Steamy Romance | Paranormal Elements
ISBN: Coming Soon!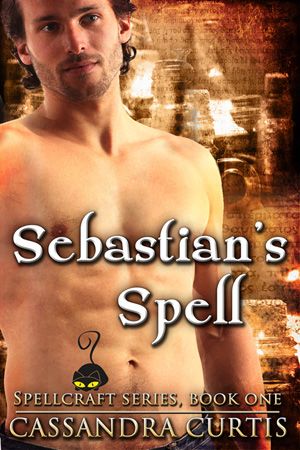 Get the Book:
Amazon | Barnes & Noble | Smashwords
2007 EPPIE Finalist!
Formerly titled: I Put A Spell On You, ©2007, 2014
Rewritten with new material and re-released with a new cover!
If you can't be with the one you love…maybe you should put a spell on them!
At least, that's what Sebastian Matthews thought when he cast a spell on Tess Warner thirteen years ago. Something must have backfired with the potion though, because he left town with his heart broken and Tess Warner hating him.
Older, wiser, and sexier than ever, Sebastian's back and ready to give it another try. Only one problem. The recipe for the potion and the spell that goes with it, were in Tess' father's grimoire. Sebastian may just be an ordinary guy, but he does have one thing on his side—the spellbinding magic of passion!
Reviews
"Cassandra Curtis does a wonderful job of creating just the right amount of sexual tension and verbal foreplay to draw the readers in and keep them there until the end! I Put A Spell On You was bewitching and I will be looking for more from Cassandra Curtis!" – Gracie, Joyfully Reviewed
"An 83!… Ms. Curtis depicts magic in this story in an earthy "this could be real indeed" manner, more Practical Magic with the use of herbs and potions than The Witches Of Eastwick. I Put A Spell On You is pretty short but it's a fun read nonetheless especially when Sebastian is such an adorable nice fellow who's confident that he's in love with Tess. Tess could have been a neurotic weirdo mistrustful of men in another story but here she's just fine as a woman who's a little uncertain about Sebastian but is smart enough not to fight the attraction over silly reasons. The secondary characters such as Tess' sisters complement the main characters instead of overpowering them. Despite the presence of magic in the story, the romance feels most down-to-earth, real, and sensible. I find I Put A Spell On You most enchanting that way." –Mrs. Giggles, Mrs. Giggles.com
"5 Kisses …Ms. Cassandra Curtis' novella, I Put A Spell On You, is an engaging, must read. A page-turner from the beginning, this book holds romance, magic, and humor. The characters embed themselves in your heart right from the start. Once you begin reading it, you can't put it down until the end, wishing it went on forever." –Cia Leah, Romance Divas
"5 Fallen Angels …I Put A Spell On You is an enchanting novella that will surely bring a smile to your face – it sure did to mine. Cassandra Curtis has written a tale of magic and love, which has been excellently written. I Put A Spell On You will engage the reader in the plot, and keep the reader voraciously reading until the end. Each character is well developed, and very likable. The things Sebastian goes through to win his love find him in a pickle or two, providing the reader with much to laugh about." –Elizabeth, Fallen Angel Reviews
"4 Blue Ribbons! …Cassandra Curtis has written a tale of magic and love. I PUT A SPELL ON YOU will bring a smile to your face. It will pull the reader into the plot and keep you reading until the end. Sebastian goes through a lot to win Tess' love. He finds himself in a mess or two and it will have you laughing. You will enjoy reading I PUT A SPELL ON YOU, and I know this reader will be looking for more of Ms. Curtis's books in the future." –Moon Tee, Romance Junkies
Excerpt
Coming soon…